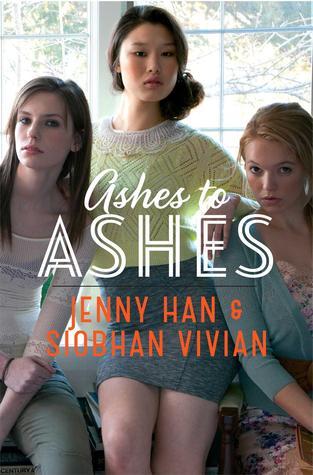 Goodreads Summary:
New Year's Eve ended with a bang and Mary, Kat and Lillia may not be prepared for what is to come.
After Rennie's death, Kat and Lillia try to put the pieces together of what happened to her. They both blame themselves. If Lillia hadn't left with Reeve… If Kat had only stayed with Rennie… Things could have been different. Now they will never be the same.
Only Mary knows the truth about that night. About what she is. She also knows the truth about Lillia and Reeve falling in love, about Reeve being happy when all he deserves is misery, just like the misery he caused her. Now their childish attempts at revenge are a thing of the past and Mary is out for blood. Will she leave anything in her wake or will all that remain be ashes?
Ashes to Ashes is the third book in the Burn for Burn series, which I did not know when I started reading it. I read it during my book club's read-a-thon, so I finished it in a couple hours, and by the time I realized it was already the third book in a series, I was on page 20 and I decided there was no going back. So I plugged on.
I can't say I'm that thrilled that I did. First of all, I felt like if I had been with the girls in the first two books, than I would have understood the plot and characters better. I had to piece together the past and figure out who Mary was, what the relationships between the characters were, and all their deep, dark secrets while keeping up with the plot of this book.
So there's my disclaimer before I write the rest of this review, because I can't say I loved this book.
First of all, I'd like to warn everyone this is not a normal contemporary novel about high school drama and tragedy. It's also paranormal with ghosts and spells and such, which really doesn't come in until the middle/end. (Sorry if that was a spoiler, but I won't say any more because then I'd really spoil it.) Plus, a good bit of the paranormal stuff didn't make sense to me, and it did not enhance the novel at all.
I also hated all the characters. They were one-dimensional and just plain cumbersome to read. I despised the fact that Lillia and Reeve were "falling in love" when Reeve was dating Lillia's best friend. Who, by the way, died tragically, partly because of the couple. I didn't like the hardened Kat because she became a one-sided character only present to be the voice of reason and cheeky tomboy of the novel. None of the characters really sparked my interest and I didn't like any of them, either.
Otherwise, I didn't like the writing style. The point of views are split mostly between Kat and Lillia with Mary jumping in every once in a while. It seemed almost contemporary, but the plot structure with paranormal aspects didn't match.
It's a quick read, and I will say that I was interested pretty much the entire time. The mystery stayed alive and strong, and I think if I read the other books I would have liked it more. That being said, the mystery was fine, but the way it was orchestrated didn't suit my fancy.