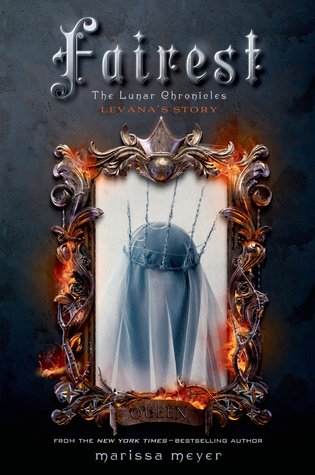 How did the evil stepmother become quite so evil? What led her to be filled with so much malice toward the world? Fairest explains how Meyer's evil stepmother, Levana, grew to power and grew in hate. The story, from Levana's perspective from teenager to moon-ruler, describes how she began wearing her veil, using her glamour, and destroying Cinder.
I practically salivated over this book when I found out about its existence. I'll be honest, I was disappointed that Winter was pushed back, but getting a glance from Levana's eyes would be wonderful. Plus, Marissa Meyer weaves all her books together so well that I couldn't wait to find all the Easter eggs that tied back to the main series.
The book is much shorter than the rest of the series since it's only a glance into Levana's life. It described her change from an insecure baby sister to a power-hunger monster.
Meyer has a perfect writing style for fantasy. She keeps the reader interested and turning the page and her worlds are completely thought out. I've never found any noticeable holes in Luna or the new Earth, and this book is no exception. I enjoyed reading it and I blew through the novel, but I had some problems with the characters.
First of all, Levana becomes the way she is because her sister essentially bullies her into becoming crazy. After reading it, I could only think about what was going on in Channery's (her sister's) head. She tortured Levana throughout her whole life, gallivanted around the castle just because she was queen, and completely neglected her duties. Yet she loved her daughter and kept her baby's bed in her own personal room. Hmm… I smell at least a novella to explain this twisted Lunar as well!
I also didn't think there was a clear causation for Levana's intense status as an evil dictator searching for world domination. Partly, I think the royal Luna family planned to dominate Earth eventually, so Levana just went along with it. She was hardened to her people before even  becoming the ruler, and I guess the cruelty faced in her life just emphasized her heartlessness. I understood why she would want to get rid of the young princesses and her generally unpleasant demeanor, but I just thought that world domination doesn't exactly fit as the effect of being bullied as a child.
I did feel sorry for Levana. I still don't think she was necessarily justified; I mean, the people on Earth and in her districts didn't do anything wrong. I guess she just needed people to release her pent-up anger at? Her sister cruelly berated her physically and mentally, practically forcing her to use her glamour at all times. Plus she suffered from the worst case of unrequited love I've read in a long time. I don't want to give anything away, but I'll just say that I felt really, really bad for the poor girl!
And I guess I can see that her state affairs were the only thing she was good at–better than her sister, even– which is why she rose to power with such zeal. I think her political life could have been emphasized a bit more; the book mainly focused on her personal story, which wasn't bad, but I just think more could be added.
I loved reading the book. Meyer is such a great storyteller. The way she completely connects all her characters and the plots of each book is fantastic. Fairest was definitely needed to enhance her Lunar Chronicles world and peeking into Levana's personal hardships tied everything together beautifully.