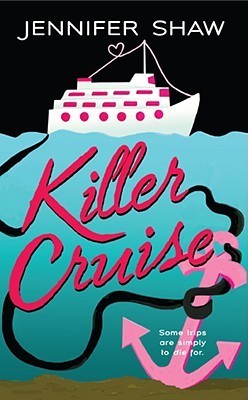 Guys, sometimes you need fluffy $3 books. It's a fact of life.
So here's my little indulgence. Ashley goes on a cruise for her 16th birthday and is stunningly able to bring her boyfriend, her step-sister, her sister's boyfriend, her two best friends, and her frenemy. Quite a cruise list, huh? Anyway, she meets this cute cruise worker and as they start to hit it off, she notices something strange is going on. She's having one too many near-death experiences on this cruise, and she's starting to think it's not a coincidence. But who could want her dead?
Ashley is conceited and self-absorbed and an absolute archetype of a snotty teenager. I loved it. She isn't supposed to be well-liked. The book cover has a pink and white cruise ship with a heart in the lines and a pun on the front: "Some trips are simply to die for." It's no secret how the premise of the book is going to turn out.
Really, there's not much to say on the matter. It's not scary nor particularly suspenseful. It's fun to guess who the murderer is, and, while I won't spoil it, I guessed the culprit very early in the book.
The book is easy to read and pretty much to the point. There's no hidden meaning or deep though-provoking quotes. What you see is what you get.
I enjoyed the book, and I think it would be a perfect beach read, or cruise read, especially if you need something that would capture your attention but not completely submerse you inside the story. Sorry this review is so short!