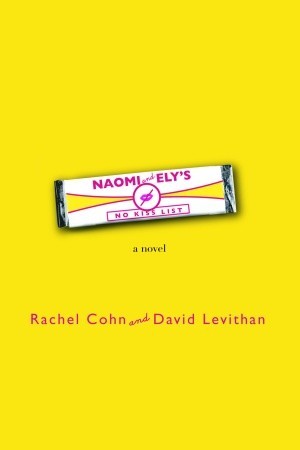 Can we take a second and look at how dumb this book promises to be with the cover and the title?
Alright, second over. Now, stop judging it without reading it.
Because it was actually pretty good.
Naomi and Ely have been best friends their entire lives and cannot imagine living without each other. Naomi, unfortunately, finds herself in love with Ely while Ely has his eyes on men. They created a No Kiss List to save their friendship and make sure no boys come in between them, until Ely kisses Naomi's boyfriend Bruce. And that's when their friendship is put to the test.
I was genuinely surprised about how deep this book is. There are some meaty quotes hidden between the casual cursing and one-liners about love and friendship that actually struck me:
"There is no such thing as a soulmate…and who would want there to be? I don't want half of a shared soul. I want my own damn soul."
The book jumps between different point of views, but I think this adds to the plot and the unique perspectives allow for the characters and the readers to explore the meanings of love and the trials of friendship. It explores how your best friends can be your most toxic friends and shows how one thing can change everything.
The characters are petty and self-absorbed and a little annoying at times, but it makes them more real. If authors wrote all their characters as beautiful and likeable, than most books would be pretty boring. And unrealistic. This novel does a great job of showing the grit and grim of the characters between their shining moments. Naomi may get unreasonably angry at stupid things and Ely may focus on himself entirely too much, but doesn't everyone do that sometimes? Aren't there people you know exactly like that? Without the realism in the characters, this book would just be a made-for-TV romantic comedy with little dimension and no original perspectives.
Overall, I enjoyed the book. It's super quick and easy to read and perfect for a car ride or sneaking passages at work. I didn't get overly invested in the story, but it did keep me entertained and gave me some things to think about regarding love and friendship. The only reason I can't give it a raving rating is because of its simplicity. These books are a dime a dozen, and while this was a good one, there are many other contemporary romances out there, just like the amount of romantic comedy movies never end. I would recommend it for a light read, but I don't think it's anything to write home about either.